Automate your android from Settings to SMS.
Screenshots:
×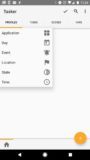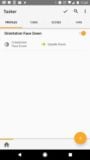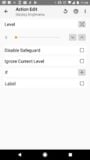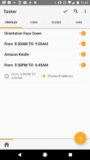 More about Tasker (old)
Tasker is a powerful tool for Android. It lets you automate settings, actions, and other aspects of your smartphone without needing to root it. It is a very good phone automation app but many people have complained of it being too complicated. It is very useful for people who are using old smartphones without the latest Android updates.
Turn on Silent mode by placing side screen down
You can quickly turn your phone to silent by placing the screen side down without the need toggle the menu and then turning on silent mode.
Open Tasker, go to the Profiles tab, and click the Plus symbol to add a new profile.
Select State, tap on Sensor, and then choose Orientation.
Under Orientation, tap Face Down. Then click on the < icon at the upper-left of the screen to go back to the Profiles tab.
Next, you need to set up the task that will happen when your phone is placed face down.
Under New Task, tap on the Plus symbol and give it a name.
In Task Edit mode, click the Plus symbol to enter the Audio action category.
Choose Vibrate as the Audio Action, and Vibrate for the Mode.
Tap the < symbol to return to the Profile tab.
Check that your new Face Down profile is turned on. Now your phone will go into silent (vibrate only) mode whenever you place it face down on any surface.
Reduce Screen Brightness at Night
You can program the Tasker app to automatically reduce the screen brightness when its night time and you don't get screen glare while using your smartphone. Here's how you set up screen brightness automation. First, create the profile for your "night mode:"
Start Tasker, go to the Profiles tab and hit the Plus symbol to add a new profile. Then select Time and set a time-frame when you'd like to automatically reduce screen brightness.
Next, set up the task to reduce screen brightness late at night:
Under New Task, tap on the Plus symbol and name the task.
In Task Edit mode, select the Plus symbol, choose Display, and then tap Display Brightness.
Set the brightness level (0 is the lowest setting).
After setting the profile with the timer Tasker will automatically reduce your screen brightness during the time period you've set.
Operating System: Android
Price: Free
Technical file information
Package name:

net.dinglisch.android.tasker

Version:

5.1 (5080)

File size:

5.2 MB

Updated:

August 27, 2019

Minimum Android version:

Android 5.0 (Lollipop, API 21)

MD5:

b163a0a0ea357d76eb30e158ca966356

SHA1:

f8ee821c5fee3cdc813bb71ab672327570f16893
Older Versions of Tasker:
What's new in this version of Tasker?
Added
Menu / Prefs / Monitor / App Check Method (where multiple options available, not in Beginner Mode)
Menu / More / Android Settings / App Usage Stats
app creation: include PACKAGE_USAGE_STATS permission if app contexts are exported
Manifest: PACKAGE_USAGE_STATS permission for app detection
action Set Tasker Pref: option App Check Method
description of what Accessibility is used for before the enablement
Menu / More / Android Settings / Tasker General Settings
Prefs / Monitor / Show Notification Icon: dialog describing necessary workaround (Android 8.1+)
state edit, Wifi Near or Connected: show warning dialog if location services not enabled (Android 8.1+)
action Settings / Application Settings, allow specification of an app
Bugfixes
task edit screen: try to treat labels as HTML if necessary, otherwise plain text
crash from Notify actions with bad ipack icon
app creation: setting child foreground without using Set Tasker Icon first was causing a crash
locked tasks/scenes could be accessed via UI search
attempted fixes for dev console exception reports
Removed
app creation: Prefs / Misc / Use External Storage: removed, always use internal to prevent permission problems
Similar Apps:
More Apps by Developer: