FRONTLINE COMMANDO: D-DAY
Set up your strategy for fighters to defend your country during the world war.
Screenshots:
×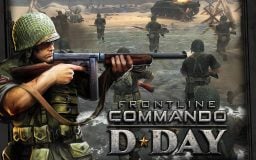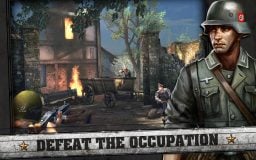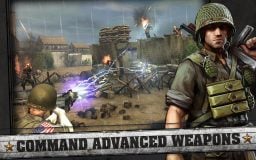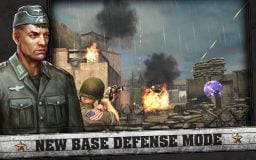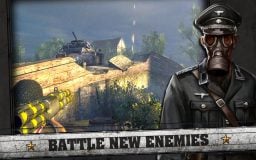 More about FRONTLINE COMMANDO: D-DAY
FRONTLINE COMMANDO: D-DAY is based on the storyline of world war 2 where allies are pitted against the Nazis. It's a 3D duck-and-cover-style shooter where you as a player will be armed with your trusty rifle and a handful of grenades. While being pushed out onto the beaches of Normandy on D-DAY. Pinned by oncoming machinegun fire from German bunkers you will have to duck and cover while fighting for the resolve.
Graphics and controls in FRONTLINE COMMANDO: D-DAY
You will have to keep an eye out for the popping heads of the enemy and use your rifle to shoot. Aiming and taking cover at the right time is the key to success. FRONTLINE COMMANDO: D-DAY is broken up into sections. Most of the time you'll be taking cover behind a wall, with a quick button-press causing you to pop up his head out of cover in order to take aim. Another button triggers the scope, allowing for precise targeting, and yet another on-screen key takes the actual shot itself.
Once an area is cleared of the enemy, the game will automatically put your soldier into a sprint movement. With you having control over horizontal movement. This allows you to avoid obstacles and dodge deadly minefields. Your aim is to get yourself into the optimum position that offers cover and a proper vantage point.
While changing positions in FRONTLINE COMMANDO: D-DAY you will be taking control of Anti-aircraft guns to shoot down incoming enemy aircraft. And Bazookas to kill those advancing Nazi tanks. The audio and video effects make a truly unique battle environment that you rarely find in free games. The game's storyline and characters have been thoroughly thought through.
To download FRONTLINE COMMANDO: D-DAY just click on the download button above to start the download. Install the APK file once it has downloaded. Explore other open world and battle games such as Frontline Commando 2 and Call of Duty Mobile. Let us know what you think of the game in the comments section below. For in-app purchase and game info visit Glu.
Operating System:
Android
Technical file information
Package name:

com.glu.flcn_new

Version:

3.0.4 (304)

File size:

14.3 MB

Updated:

April 13, 2020

Minimum Android version:

Android 2.1 (Eclair, API 7)

MD5:

9d9410323d31d5f60b4648ef1cfc2ddb

SHA1:

e218b1a2e6fa6fa722e548441c3aed069fc5f9e1
Older Versions of FRONTLINE COMMANDO:
What's new in this version of FRONTLINE COMMANDO?
Bug fixes and other improvements to game performance
Similar Apps:
More Apps by Developer: